(2010 - 2013)
Principal Investigator: T. Turrentine
Lead: Gil Tal (gtal@ucdavis.edu)
Funding: U.S. DOE, ECOtality, Idaho National Lab, Nissan, SDG&E, PH&EV Center
The Plug-in Hybrid & Electric Vehicle (PH&EV) Research Center will collect consumer data within the context of the San Diego EV Project. The EV project includes deployment of the Nissan Leaf and Chevrolet Volt, placement of home and public PEV recharge stations by Ecotality, and a time-of-use electricity rate experiment undertaken by San Diego Gas & Electric (SDG&E). The PH&EV Center is collaborating with these organizations, the Energy Commission, and others to investigate several aspects of consumer demand behavior regarding PEVs:
Research objectives
What kinds of plug-in electric vehicles (PEVs) do consumers want?
How will PEV buyers drive and recharge these vehicles?
What will motivate PEV demand and use patterns?
What is the importance of home, work and public recharge infrastructure?
What are the anticipated energy and environmental impacts of PEV use and policy?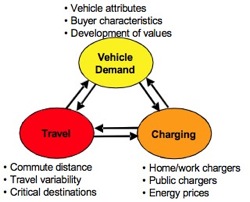 Methods
To explore these questions, the PH&EV Center will collect data from two consumer samples:
San Diego PEV buyers (Nissan Leaf and Chevrolet Volt)
Timeline: April 2011 to end of 2012
3-part web-based survey instruments (n = ~500)
Motivations for purchase and expectations of use
One-week travel and recharge diary
Assessment vehicle and use
2-part household interviews (n = 30-50)
Semi-structured narratives of PEV experience
Desire for recharge infrastructure placement
Time-of-use recharging response to electricity rate structure
General San Diego new vehicle buyers (n = ~50)
Timeline: April 2011 to end of 2011
3-part web-based survey instruments (n = ~500, April 2011))
Initial PEV-related attitudes, awareness and knowledge
3-day travel and recharge diary, and home recharge assessment
PEV design selections and travel adaptation
Follow-up household interviews (n = 30-50, June to November 2011)
Semi-structured narratives of PEV experience
Desire for recharge infrastructure placement
Home assessment of potential for PEV recharge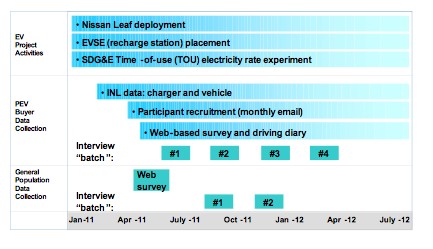 Project Type