Summary
Exercising their prerogatives under Section 177 of the Federal Clean Air Act, several states have adopted California's emissions goals and a subset of these has further adopted California's zero emission vehicle (ZEV) requirements. However regional differences in the duration and extent of support for ZEV market development and in the opportunities for consumers to buy ZEVs persist. The result is that while nearly 40% of new car buying households in California and Oregon are estimated to have positive valuations of ZEVs—that is, in the survey they design their next new vehicle to be a ZEV—this percentage approaches only 30% in the northeast states. Consistently across all states, distinctions between those new car buyers who do and don't have positive valuations of ZEVs may be characterized as "two-sides-of-a-coin," in particular as regards respondents' beliefs regarding the environmental credentials of ZEVs and their attitudes toward new technology.
Across all states the first impediment to continued ZEV market growth is lack of consumer awareness of the most fundamental facts, starting with the lack of awareness of the present opportunities to drive and buy ZEVs. It is clear from the survey responses and follow-up interviews that new car buyers formed their first valuations of ZEVs when they completed our surveys.
The first step to expanding markets for ZEVs is to radically increase the number of households considering the question whether a ZEV right for their household.
Electric Vehicle Platform for Education, Outreach, and Experience (EV PEER)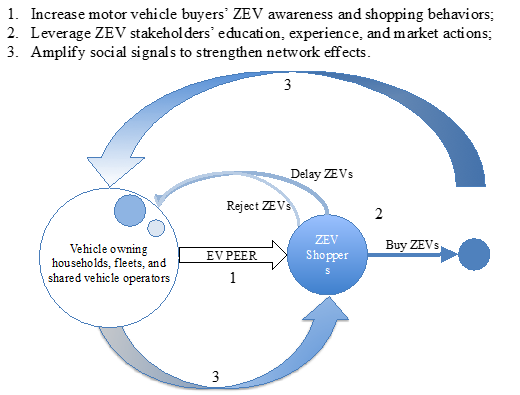 Additional Information
See the presentation describing the project.
Read the reports from all states below:
California
Oregon 
Washington
Massachusetts 
New Jersey
New York
Maryland
Delaware
Northeast States for Coordinated Air Use Management (NESCAUM)
Project Type